If, like Luis E. Hernandez Ramirez, you find it difficult to choose between biology and chemistry, you may be interested in the cutting-edge interdisciplinary field of chemical biology, which combines both disciplines to tackle current life science challenges. As a Master student in Chemical Biology, Luis is currently conducting his master's project in the Gönczy lab (EPFL), where he is working on the project "novel chemical labeling strategies to probe centriole assembly in living cells", a joint project with Prof. Pablo Rivera-Fuentes (EPFL). In this interview, Luis describes what are the main features of the Master offered by the University of Geneva in collaboration with EPFL, and why he loves the programme so much.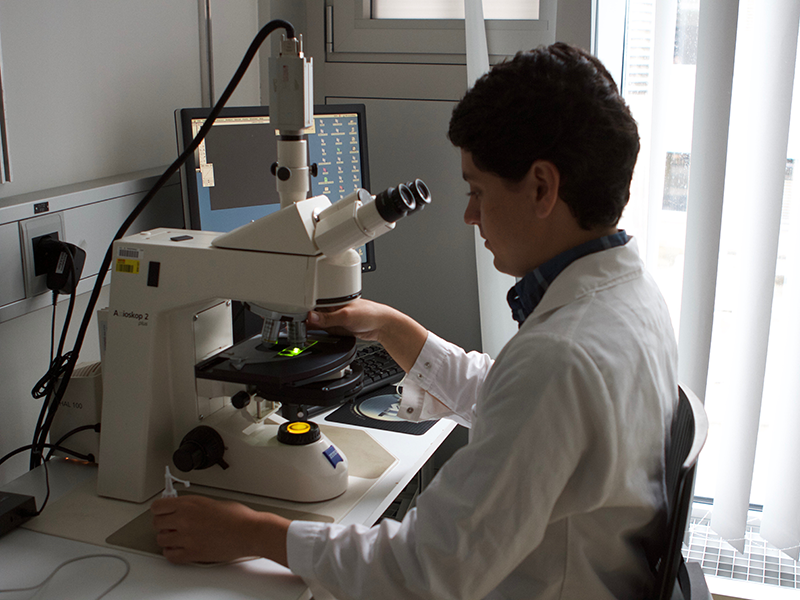 What did you study in your bachelor and where did you do your bachelor?
I completed a bachelor in biology at the Universidad del Zulia and another one in chemical engineer at the Instituto Universitario Politécnico Santiago Mariño, in Maracaibo, Venezuela. During my bachelors, I also did an exchange programme to study human genetics and marine biology at the Humboldt State University, in the United States.
Why do you want to learn more about Chemical Biology?
I have always been attracted to biology and chemistry and I always tried to decide for one or the other to further specialize professionally. Fortunately, I found the scientific discipline spanning the fields of chemistry and biology which would allow me to combine both subjects. Chemical Biology was the answer. This is a cutting-edge interdisciplinary field where biology and chemistry meet in order to solve biological problems with the application of novel chemical tools, and of course, I would like to contribute to this field.
What were you most curious about when you started your masters and which topic do you want to learn more about?
In this programme you have the opportunity to learn a lot about many techniques and approaches in the frontiers between chemistry and biology, which makes the learning process fascinating as you realize the vast number of possibilities to address specific problems. One of my learning goals since the beginning of the masters was to answer biological questions by directly probing living systems at the chemical level (using chemical probes).
What is your favorite part of your studies so far? What do you like most about the masters and why?
I like how the programme is structured and the priority it gives to the practical/experimental part in laboratory, by allowing you to have different internships in different laboratories during your first semester and 1 year to work on your master project and gain a lot of hands-on experience. I also like how the programme is thought to make you level up in the fields or topics that you do not feel so confident about, regardless of your background. This makes it a programme where biologists, chemists, physicists and biochemists interested in this interdisciplinary field are welcome.
What technique(s) have you learned in your master project?
So far, I have learned about protein engineering, cloning methods and other molecular biology techniques in order to make endogenously tagged centriole proteins in human cells. In the near future, I will have the chance to perform other techniques like expansion microscopy and super-resolution microscopy. The fact that I have the opportunity to learn and perform pretty cool experiments like those with my own hands is what excites me about my master project.
Did you have time to explore Geneva and Lausanne and if yes what did you like the most?
Of course! I love both Geneva and Lausanne. My favorite part of both cities is the lake area where you can always have a good time with your friends (picnics, games, swimming and even stand up paddle!), or simply relax after your exam sessions. Switzerland is a beautiful country, so you can always plan and go on adventures to make your masters journey even more enjoyable!
Do you have advice for the students who are thinking of applying to this programme?
If you are really motivated to learn about what is in the intersection between biology and chemistry and to think beyond the state-of-the-art, you should apply to this programme. Use all the resources available from the NCCR Chemical Biology website to learn more about the programme, and do not hesitate to ask all your questions to the NCCR Chemical Biology staff, and even to previous or current master students.
---
Luis Eduardo Hernández Ramírez is a biologist (Universidad del Zulia) and chemical engineer (Instituto Universitario Politécnico Santiago Mariño) from Maracaibo, Venezuela. During his bachelors, he did an exchange programme at Humboldt State University in the United States where he acquired more experience in biological sciences and later on he did an internship at École polytechnique fédérale de Lausanne, Switzerland where he worked with centriole purification from DNA-less sperm of a C. elegans temperature sensitive mutant. He is currently conducting his master's project in the Gönczy Lab (Cell and Developmental Biology) at EPFL, under the supervision of Prof. Pierre Gönczy, where he is working on the project "novel chemical labeling strategies to probe centriole assembly in living cells", in collaboration with Prof. Pablo Rivera-Fuentes. Besides his studies, Luis enjoys intercultural experiences, going on adventures with friends and discovering new places in Europe. He is also a human rights activist, photographer and nature enthusiast.