Synthetic fluorogenic peptides reveal dynamic substrate specificity of depalmitoylases
From Cell. Chem. Biol. (2019)
S-palmitoylation is a post-translational modification of a cytosolic cysteine with a long-chain carbon moiety. This modification is dynamic as it can be catalyzed by a number of palmitoylating and depalmitoylating enzymes. As of right now, the best known depalmitoylating enzymes are cytosolic APT1 and ATP2, and lysosomal PPT1 and PPT2. While fluorescent probes for depalmitoylation had been employed previously, they were limited in their mimicry of the palmitolation moiety and not easily amenable to modulation. The authors of this study systematically synthesized quenched fluorogenic substrates using solid-phase peptide synthesis. In this way, prepared substrate libraries scanned the two peptide positions on either side of the palmitoylated cysteine. These libraries were assayed with purified human APT1, APT2, and parasite T. gondii PPT1, revealing depalmitoylase substrate specificities. While APT1 and APT2 had overlapping substrate profiles owing to their 68% sequence identity, there were distinctions found in depalmitoylase affinities and even larger differences seen in depalmitoylation rates. These fluorogenic substrate were used in cell lysates and tissue homogenates, confirming some substrate specificities identified in vitro, but always hinting at the presence of other active depalmitoylases in those complex extracts. This paper's approach provides valuable tools to further uncover the complicated cellular depalmitoylation landscape.

---
DNA-encoded library-derived DDR1 inhibitor prevents fibrosis and renal function loss in a genetic mouse model of Alport syndrome
From ACS Chem. Biol. (November 2018)
Discoidin Domain Receptor 1 (DDR1) is the only collagen tyrosine receptor kinase (RTK) and therefore plays a role in regulating cell-collagen interactions. So far, in disease contexts with accumulation of collagen-rich extracellular matrix, DDR1 has only been successfully targeted by gene knockouts or antisense oligonucleotides. However, these are limited approaches and targeting the phosphorylation of DDR1 would be more efficacious. Previous efforts in developing DDR1 inhibitors focused on compounds that targeted the ATP-binding pocket, but this pocket is conserved in all RTKs. In this paper, the authors employed DNA-encoded library screens in a novel parallel way, to find new classes of molecules that selectively target DDR1 over its related family member, DDR2. The lead molecules were further developed using a co-crystal structure with DDR1, structure-activity-relationship work, and rational design to produce a hit compound that not only binds DDR1 over DDR2 but specifically only affects the phosphorylation of DDR1. This hit compound was tested on a Collagen 4 knockout mouse, a model for a chronic kidney disease, where it successfully improved renal function. This compound could be used in human chronic kidney diseases (which affect up to 10% of the world population), synergistically with current treatment paradigms.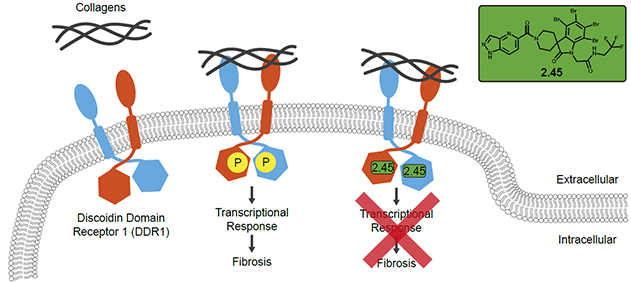 Copyright main picture (3D render of a medical background with DNA strand): Designed by Freepik