Where does the idea to create a start-up comes from? How does one get from an academic project to an entrepreneurial one? Where can one find the support necessary for such an endeavor? Any scientist can ask themselves these questions at any point in their career. We asked them to Dr. Vanessa Carle, who has been working for the past three years on turning her PhD project into an entrepreneurial one. She tells us the story of Velox Therapeutics, the steps she took during this journey and gives us her perspective on the process of entrepreneurship.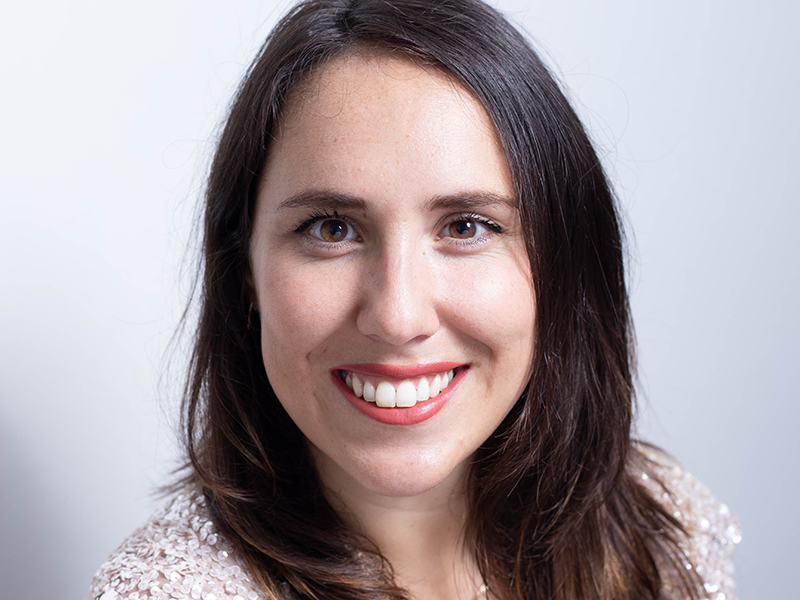 What is your project about?
I did my PhD in the Laboratory of Therapeutic Proteins and Peptides (LPPT) at EPFL, with Prof. Christian Heinis. Our lab uses a platform technology based on cyclic peptides to target therapeutically relevant proteins. My goal was to develop an inhibitor of coagulation factor XI (FXI), which is a promising target for the development of a novel class of drugs to treat and prevent thrombosis. Thrombosis is one of the leading causes of death worldwide, and one class of drugs that is used to treat and prevent it is anticoagulants. However, currently available anticoagulants all have a major side-effect: they increase the risk of severe bleeding in patients. There is therefore a need for novel anticoagulants, and targeting FXI is a promising strategy.
I first performed phage display with a library our lab developed, and characterized many of the hits I obtained. I then worked mostly on the optimization of two different leads and I have now a semi-final molecule, which is already being tested in animal models.
What are the main steps you took to go from your academic PhD project to where you are now?
For me, the very first step was to realize that my project had commercial potential. Already at this step, the support one can get is crucial, especially for young PhD students. As a PI, Christian was really supportive from the very beginning, which helped me gain confidence.
The second step was to ask (and try to answer) the following question: what can I do with this idea? To answer it, I had to get to know the entrepreneurship world and identify the key questions I needed to address. Here, there are a number of tools available for "wannabe" entrepreneurs and they are useful. In my case, the main ones where the Innosuisse Business Concept course and the bench2biz workshop (formerly known as SwissCompanyMaker) offered by a consortium of NCCRs, including the NCCR Chemical Biology.
These tools are great, because they are targeted at people from academia, and therefore they do not expect you to know much about entrepreneurship. From my own experience, both are complementary. While the Innosuisse program is a semester-long course providing a theoretical basis in financing, market identification, competition analysis, etc., the bench2biz workshop allows you to apply all these concepts directly to your project. The workshop is intense, but one covers all aspects of their project, from the problem and the solution provided to competition analysis and value proposition. Anyone can apply to participate in this workshop, even if they only have an idea and want to understand if it would be feasible from a business point of view.
The third step for us was networking and starting to look for money. The idea is to start taking all opportunities to meet people, to get your project known and to learn new things. Creating a brand was important here, as people tend to take you more seriously if you already have a name, a logo, etc. It also helps them remember you! We actually created the start-up project "Velox Therapeutics" when we started looking at how to create a start-up. For networking purposes, we participated in a few conferences and in MassChallenge Lausanne, a start-up accelerator program of four months. We were even lucky enough to win a prize in this program, which was very useful in terms of visibility (and money)! After that, we also started talking to investors to see if they would have any interest in our idea.
Finally, the last step for us is to make a decision: based on the data, the feedback from experts, the opinion of investors, does it make sense to actually create a start-up? In my case, especially after discussing with investors, I realized that it would make more sense to look for a pharmaceutical company that would be interested in taking over the project than to create a start-up. This is what I am focusing on now, while continuing the research work.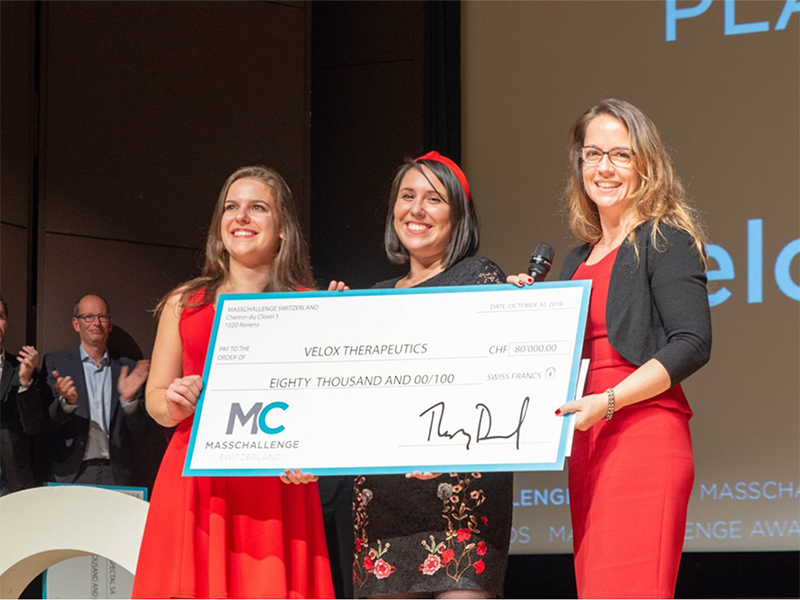 What are some difficulties that you encountered along the way, and what advice would you give to someone in that position?
The first difficulty I had was to get from the idea of creating a start-up to understanding how to make it happen. Most of us, academic scientists, have little to no idea about how entrepreneurship works, which renders this step particularly difficult. My advice here is to really take all the opportunities you get to participate in workshops, courses and to discuss with people in order to get the maximum information you can.
The second difficulty I encountered is to find a co-founder for my project. Finding the right person is difficult: they need to be willing to get themselves really involved in the project, which requires above average interest and motivation. Active networking can be a solution: the more people you meet, the more likely you are to find somebody who wants to join you.
Finally, as a relatively young, and perhaps female, academic scientist I sometimes had difficulties when talking with investors or company executives. Instead of having what should have been a peer-to-peer conversation, it happened that people talked to me in a patronizing and condescending way, as if I was a very junior and inexperienced person that needed a lot of help. It was sometimes very frustrating, especially when I was well prepared, and knew exactly what I was talking about. Fortunately, this issue does not happen too often and many people act in a professional way. The only advice I can give here is to always make sure that you are really well prepared and that you are the expert in your own project.
What kind of support did you get throughout these two years and how important was it for you?
I think the support of the PI is absolutely essential, especially in the very beginning. It pushes you and can give you confidence in your idea. Their support is also important throughout the whole project, both mentally and resource-wise, the ladder especially for grants. For example, I am now working thanks to a BRIDGE grant which requires PI support and lab access. In my case, Prof. Christian Heinis was really great: from the start, it was also his goal to get something out of this project. He provided his opinion and some help, for example by connecting me with people in his network. This allowed us to pitch our project very early on at different conferences. He also provided contacts amongst investors and other biotech professionals he had met in the past, and sometimes was present during meetings. He is actually a co-founder in this project.
One of my former lab mates, Dr. Patrick Gonschorek, played an essential role in the beginning of the project. Patrick was working on a different research project in the lab, and we initially thought of combining both to create a start-up. This idea was later on put aside and we worked together on Velox Therapeutics as co-founders. He was really a big help for many aspects and it was definitely easier to get through the initial stages of the project together with him. He later decided to focus on other things at the end of his PhD, and he is therefore not really involved anymore.
Another aspect in which Christian Heinis helped me was that he offered to hire someone when he saw I had too many things on my plate. He agreed to hire Chloé Rogg, when she finished her thesis in the NCCR Chemical Biology Master's program, initially mostly to help on the funding part. She ended up also helping me in the lab, and we participated in MassChallenge together. She has now also moved on and started a PhD of her own at the EPFL.
Finally, EPFL and in particular its Technology Transfer Office (TTO) was a big support for me. Within the TTO, I had a great contact with Isabel Casado from the Enable team. The Enable program can provide both funds and/or paid intern(s) for selected projects until the proof-of-concept stages. In my case, they helped us get animal studies, and they provided several interns (Edouard Ehret, Jane Marsden and Cyriaque Bruez who is currently working with me) who helped me bring the project forwards. Having them in the lab allows me to focus more on the commercial aspect of the project.
Some useful links:
---
Vanessa Carle obtained her Master's degree in Pharmaceutical Biotechnology from the Martin-Luther University Halle-Wittenberg in 2015. She then joined the lab of Prof. Christian Heinis to pursue her PhD in 2015, and graduated in August 2019. Since then, she has been working on her translational project with the support of a BRIDGE Proof of Concept grant. Her future plans include partnering up with a pharmaceutical company to further develop her cyclic peptide inhibitors of FXI.