Current position: Head of Metabolomics, Molecular Discovery Platform at CeMM, Research Center for Molecular Medicine of the Austrian Academy of Sciences
Place: Vienna, Austria
Field of work/Research topic: Metabolomics and lipidomics in the context of Molecular Medicine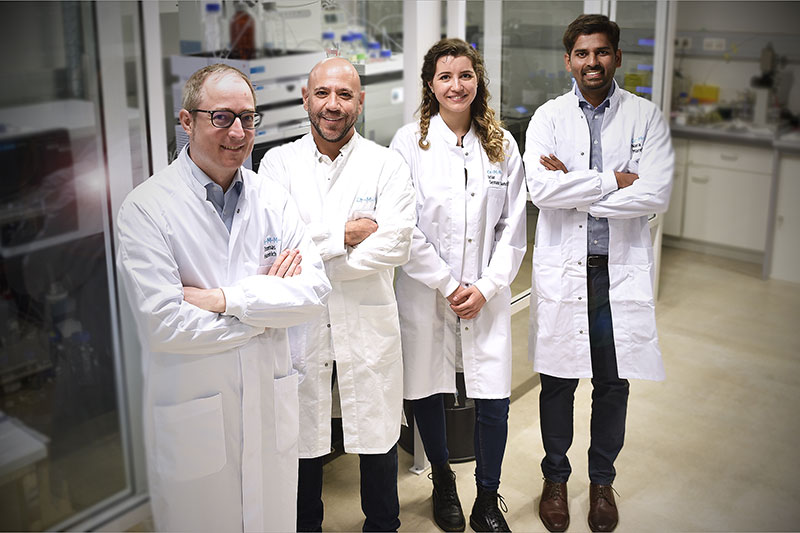 Could you describe your career path after leaving the NCCR Chemical Biology? What enabled you to reach this new position?
Already during my time as postdoc and Maître Assistant with Howard Riezman at the University of Geneva I was engaged in several multi-disciplinary collaborations. I had always found it very rewarding to support other groups with our metabolomics and lipidomics expertise. When a position as Head of Metabolomics at CeMM in Vienna became available I applied. I knew the institute and the director, Giulio Superti-Furga, from previous scientific conferences including the NCCR Chemical Biology Symposium 2020 where he was keynote speaker. In fact, I had written the conference teaser on Giulio for the NCCR Chembio blog. The philosophies of CeMM and of the NCCR Chemical Biology are very similar, which made the start at CeMM easier and prepared me for super-collaborative scientific work.
What was the most exciting moment of your career until now? Why?
Building a new team for the Metabolomics Facility was the most exciting and rewarding aspect of my work so far. I am very happy with the team I have recruited, and I am looking forward to advancing the metabolomics efforts at CeMM together with my co-workers.
What is your best memory as a researcher at the NCCR?
I always enjoyed the NCCR retreats. Discussing chemical biology questions with fellow scientist from completely different fields of research was great fun and taught me a lot. Especially now when conferences are only happening virtually, I miss this kind of intense scientific exchange.
What is your source of inspiration (whether from the science context or not) or your driving source?
I find inspiration in many things: art, music, literature, sports or politics. But most importantly I get inspired by people that I admire or that have touched me. I often see parallels between art and science. Both try to explore reality and create models of the world around us and of the human experience. One big impact on my scientific interest was also fatherhood. Seeing my child grow up makes me think of developmental biology a lot.
What are your current responsibilities as Head of Metabolomics at CeMM?
I support the metabolomics efforts at CeMM, as well as adjunct researchers and groups outside the institute. We perform metabolomics and lipidomics analyses and give advice. I lead a team with three co-workers. In addition to the scientific work, I have more administrative responsibilities including managing the budget and developing a business plan for the metabolomics platform.
Within the NCCR, you have been part of the editorial committee of the blog for several years. What did this experience bring you?
Working on the NCCR blog helped me get involved in many aspects of the NCCR Chemical Biology including the outreach efforts. One of the most interesting aspects was the work with the Niemann-Pick Foundation, NPSuisse. Interestingly, the NPC1 transporter involved in this disease is a member of the SLC solute carrier family. One of my main clients now at CeMM is the ReSOLUTE consortium which studies the metabolomic impact of SLC carriers.
What advice would you give to a junior scientist interested in pursuing your path?
If you like technology development and collaborative work, then heading a research service facility can be a great career choice. It will also expand your scientific breadth enormously to be involved in many diverse scientific projects. I am learning something new every day.
---

The chemistry of life fascinates Thomas Hannich since high school which is why he studied biochemistry in Tübingen and Munich. Combining genetics and biochemistry he investigated SUMOylation in the Hochstrasser lab at Yale University. During his PhD thesis with Temo Kurzchalia at MPI-CBG in Dresden and afterwards in Howard Riezman's group at Geneva University he developed lipidomics and metabolomics approaches to explore the role of metabolites in biology. In September 2020 he joined CeMM as Head of Metabolomics at the Molecular Discovery Platform to help unravel novel functions of metabolites in health and disease.