Name: Miwa Umebayashi
Current position: Specially-Appointed Assistant Professor
Place: Gifu University, Cell Biophysics Lab, Japan
Research topic: Elucidation of functions and dynamics of lipids in cellular membranes by imaging and biochemistry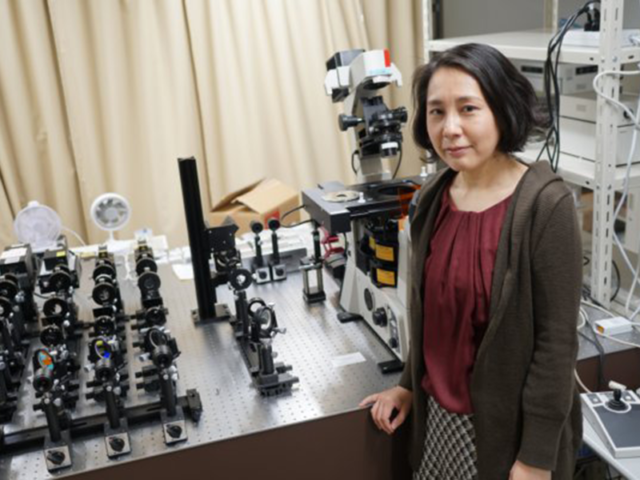 What was your position and research topic with the NCCR Chemical Biology?
I joined the lab of Prof. Howard Riezman at the University of Geneva as a post postdoctoral researcher in May 2009 to start new projects with the labs of Prof. Kai Johnsson and Prof. Stefan Matile. Our goals were the visualization of the membrane fluidity with new fluorescent probes and the development of a novel method to monitor the local membrane environment surrounding a specific membrane protein in cells. I succeeded to visualize the local membrane environment of the insulin receptor during signaling and realized that single molecule imaging of lipids should be a valuable approach to unravel why the local membrane environment of the receptor changes during signaling.
Could you describe your career path after leaving the NCCR Chemical Biology?
Since April 2019, I've joined the lab of Prof. Kenichi Suzuki to learn the sophisticated single molecule imaging technique and create a research environment suitable for biochemistry and lipid-biochemistry. We build microscopes for multi-color single molecule imaging combined with super resolution microscopy which enable us to observe the dynamics of molecules of interest with high spatial and temporal resolution. My goal is to reveal the functions of lipids in cellular membrane by using imaging and biochemistry.
What was the best or more exciting moment of your career?
The most exciting time in my career was around the end of my PhD. At that time, I was testing the hypothesis derived from my experimental results, but was getting conflicting results. I was struggling for two weeks to think of an alternative model that would fit all my results. What an exciting moment it was when I came up with it, matching beautifully all my results and it turned out to be the correct one!
What did you find unique about your collaboration with the NCCR Chemical Biology?
I really liked the atmosphere of the NCCR Chemical Biology. The strong network of scientists offers a wide variety of backgrounds, knowledge and skills. I could try a difficult project and discuss with many members when I had problems. It was also nice to have seminars, retreats and symposiums focusing besides science on many aspects of the life of a researcher topics such as work-life balance, women career, etc.
What are the skills/expertise acquired with the NCCR Chemical Biology that are useful to you today?
In the NCCR, besides scientific expertise, I acquired communication skills to collaborate with people having different backgrounds. Today, I am working within an interdisciplinary team of chemists, biophysicists and biochemists and I feel comfortable about it.
What is your current research topic?
I am working on proteomics to identify molecules that interact with gangliosides using photoactivatable-ganglioside probes. I want to elucidate the mechanism that enriches gangliosides in exosomes.
What advice would you give to a junior scientist interested in pursuing a career in chemical biology?
Enjoy what you are doing now and try to experience a variety of things even if you are not currently interested in. Exposing yourself to many experiences expand your choices and might be useful in the future.
---

Miwa Umebayashi received her PhD in Agriculture at the University of Tokyo in 2007. After two years postdoc in Japan, she moved to Prof. Howard Riezman's group working on visualization of the local membrane environment surrounding the insulin receptor for postdoctoral studies. In 2019, she joined Prof. Kenich Suzuki's group as a specially-appointed assistant professor at Gifu University (Japan) where she continues her research on cellular membranes and lipids.